Android is the most popular mobile OS worldwide because of its massive app ecosystem and countless customization options. You will find lots of Android launcher apps, icon packs, and more, which will allow you to customize your Android device to the maximum. Users can download these apps via Google Play to change the entire interface of their device within few minutes.
If you want to use your Android smartphone for years, we recommend installing some Custom ROMs for better durability. Using Custom ROMs, you can search for the new UI, new designs, and impressive features without purchasing a new Android phone.
For example, if you have a Vivo smartphone, simply install MIUI ROM to get Xiaomi features, which is magical. However, not everyone can perform this task; installing custom ROM is not easy; it might be risky. You need a rooted device for this purpose and proper expertise to accomplish this task.
List of Top 10 Best Custom ROMs For Android
Our experts have compiled a list of the best Custom Roms for Android that allows you to customize your smartphone as you want. Let's have a look at the list given below to explore new designs and interfaces.
Pixel Experience is top-rated, and the most smooth ROM enables you to transform your rooted Android device. The ROM is based on  Google's Stock ROM on Pixel smartphones which is excellent. The best thing about Pixel Experience is that it provides Pixel-type features to serve you the best. The Pixel Experience ROM emphasizes security and performance and also provides some customization options.
crDroid is LineageOS based Android ROM that is compatible with rooted Android smartphones. This ROM is best for users who prefer stock Android with some twists. It is not much older; still, it has grabbed many users worldwide and is still growing. If you look at compatibility, this custom ROM supports over  63 devices from 12 different manufacturers. So you can give this ROM a try that supports several devices and offers a collection of features.
Havoc OS is similar to stock Android when it comes to looks and arrives with a vast library of customization features. Using this Custom ROM, you can customize the status bar, software buttons, gestures and perform many other tasks. If you want a Pixel-type experience, we strongly recommend you to use this Havoc OS ROM. However, the downside of this ROM is that it is unstable and consumes a lot of battery which is disappointing.
Corvus OS is another name on this list, which focuses a lot on the performance and stability to facilitate Android users. This ROM is specially developed for complicated gamers who spend the majority of their time playing video games. Gaming requires more efficiency; that's why this ROM brings the best performance and excellent stability. The Corvus OS ROM delivers some great customization features such as a system accent picker, theme scheduling, notification panel customization, font customization, and many more.
Arrow OS is one of the best custom Roms for Android that you can use right now. The most lightweight ROM and doesn't acquire much space on your device's storage still provide balanced performance with reliability. This ROM is a clone of the Pixel Experience ROM mentioned above in our list but offers more features. It may not offer many customization options, still gives your fair features such as ou can choose the accent color, customize the overview menu, and much more to change your device interface. It would be best if you dont care about the battery, as it is designed to increase your battery life and stability.
It is an open-source ROM that is still developing and getting popular among users. The best thing about Resurrection Remix ROM is that it is available for almost all devices with fantastic support from fellow users and developers in forums. You can call it a mixture of other ROMs as it brings features from many ROMs, such as Paranoid Android, Omni, Slim, and AOKP.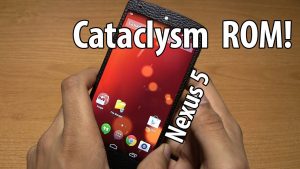 Cataclysm is not as popular as other names on this list, but still, it presents the stock Android look to attract users. You must not care about the performance, as it is designed to perform well and includes many valuable features. Some of the best features include toggles, lock screens, customization options for the status bar, notifications, and more.
Dirty Unicorns' best thing is that it is an open-source ROM that offers support for so many devices. Marshmallow-based ROM comes with CM Theme Engine and some excellent features that you can't find anywhere. One such feature is the 'Dirty Tweak' category,  where you can find various tweaks such as double-tap to lock, immersive mode, and much more. You can give this ROM a try if you are looking for a straightforward and efficient interface that doesn't affect the performance of your device.
Lineage OS might be lower in our list but gives a tough competition to its rivals in terms of features and performance. Remember Cyanogen OS that has been officially closed down, but Lineage OS is its successor and contains all the features. It is an open-source ROM based on Cyanogen OS Source code, so this is the reason it is one of the Best Custom ROM. If you are a Cyanogen OS fan, you must look at Lineage OS, which will transform your rooted Android device without hassling around.
AOSP Extended is the last name in our list of best custom Roms for Android that you can utilize on your rooted Android smartphones. It is built on AOSP source code which is responsible for its performance and stability. What makes it superior to others is its countless features to serve its users with maximum customization choices. Some of the customization features allow users to modify the lock screen, status bar, and many other Android settings.
Conclusion:
We have created a list of the best custom Roms for Android for our readers based on our research and thorough analysis. There are so many other ROMs available, but they all are not efficient. So you can choose any one from our list based on your needs or requirements. Dont forget to send us your suggestions and feedback. Goodbye!